Are you someone who could teach Baby Sign Language?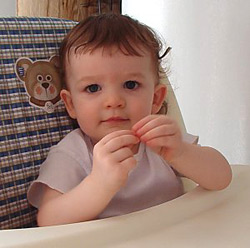 Baby Sign Language is fast becoming a popular way to communicate effectively with little babies. Parents are increasingly recognizing the importance of communicating with their infant children in order to reduce their frustration in conveying their needs to others. The numerous advantages of baby sign language have created a whole new business opportunity for people who can teach this language to parents efficiently.
The best part about teaching baby sign language as a professional is that you do not need any formal qualifications for it. In fact, anyone can teach baby sign language even if they do not have a high school education or a college degree.
If you are a parent who is keen to teach sign language to your own baby or to other little babies as a professional, all you require is a natural interest and love for children and a basic instinct to help them learn a new skill for their own benefit. You will definitely need oodles of patience when dealing with a small baby who has no way to communicate and who is entirely dependent on you for learning. If you are someone whose motherly instincts are strong, you will be able to enjoy the work naturally.
When it comes to imparting the training of sign language to other parents so that they can go ahead and communicate effectively with their little ones, you must possess qualities of a good teacher. First and foremost, you need to sharpen your own skill of sign language, so that you can pass on that skill to others efficiently and successfully.
Secondly, you need to have the quality of patience and perseverance so that you can sustain your enthusiasm with the parents, and settle all their queries and doubts without getting tired or frustrated. Parents are like customers who can be quite demanding at times because they are paying money for your services. So you need to have natural people skills to handle all kinds of customers with finesse and achieve your personal objectives and deliver value to them at the same time.
Thirdly, it is important that you keep yourself updated with the latest information and new developments in the field of sign language for infants. Parents may ask you all kinds of questions and expect relevant answers from you regarding the benefits of sign language and what the latest scientific research has to say about it. Therefore, if you keep yourself thoroughly updated with information, you will be well equipped to answer all their queries satisfactorily.
If you think that you possess all these attributes, you are ready to take up the role of a Sign Language teacher for babies.
BIO:
Kindersigns is one of the largest Baby Sign Language Networks worldwide. Their Kindersigns Instructor Business Opportunity kit includes everything you need to start your Teaching Baby Sign Language Business including learning modules, class materials, web site and email.
[thumb]http://www.kindersigns.com[/thumb]