"Her mum would've have loved her so much"
Those are the words spoken by the father of a baby who was born two days after his wife died.
Two days after Jayne Soliman was declared brain-dead, her grieving husband saw her life-support machine turned off.
In a moment of unbelievable poignancy, he was then given their baby daughter to hold for the first time.
Doctors had kept 41-year-old Mrs. Soliman's heart beating after she suffered a brain hemorrhage.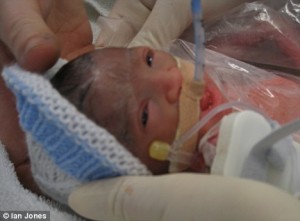 At 26 weeks, baby Aya weighed just 2lb 11/2oz.  The tiny Aya was placed on her mother's shoulder for a moment before being handed to her father.
For more on this st0ry: UK Daily News