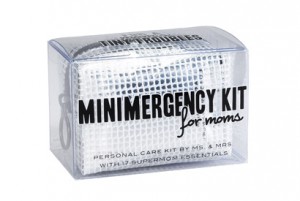 I received an email this morning about Ms. & Mrs. changing their name to Pinch Provisions and found myself digging into the "why" behind the name change and came across their Minimergency Kit for moms and thought it was worth sharing. I also think their commercial on YouTube is very cool so I added it to the bottom of this post.
These gals are smart! Here's info on the Minimergency Kit for moms:
No one needs a Minimergency Kit more than a mom. That's why we have revamped our beloved survival kit specifically for busy mothers. The Minimergency Kit for Moms contains an amazing assortment of 17 personal (and kinder) care items to prevent minor melt-downs. The kit contains a variety of mommy must-haves, including hand-sanitizing towelettes and caffeine gum. We've also included a handful of kid-friendly items like a miniature crayon set, fun adhesive bandages, and the smallest deck of playing cards you've ever seen. The sporty chic pouch features white transparent mesh and a black zipper. Measures 3.5″ x 2 " x 2″.

Contains 17 must-haves: lip balm, breath freshener, dental floss, emery board, clear elastics, earring backs, mending kit, stain remover, deodorant towelette, pain reliever, caffeine gum, facial tissues, adhesive bandages, hand sanitizing towelettes, thermometer, mini crayon set, mini playing cards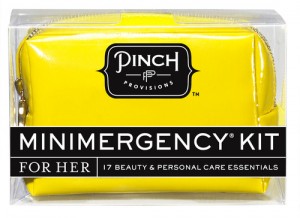 They also offer kits for Hers, Him, and a Working Girls Survival Kit too!
Here are some of the highlights from their press release.

MS. & MRS. DEBUTS NEW NAME AS PINCH PROVISIONSTM 
New Name, New Design, and New Retail Partnership
with Minimergency Kits available at J.Crew next Week

CHICAGO, July 17, 2012 – Ms. & Mrs., the leading purveyor of beauty, fashion, and personal care kits, announces a corporate name change today, and will now operate as Pinch Provisions.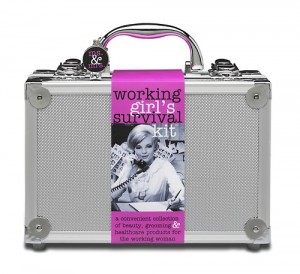 Founded in 2004, the company is known for its coveted line of survival kits, among them the life-saving Minimergency®, Shemergency®, and Hemergency®.
The Chicago-based, mother-daughter company has rebranded because its former name was difficult to pronounce. Georgette Kaplan, Pinch Provisions President, explains: "People might have seen 'Ms.  & Mrs.,' but most would say 'Mr. & Mrs.' or 'Mrs. & Mrs.' and we decided the tongue-twisting had to come to an end."
With the new name will come a new look as well. Everything from the kits to the emergency essentials within have been carefully redesigned, cementing Pinch Provisions' place as a trendsetter in the personal care industry.
Additional Pinch Provisions' products will be available online this September at www.pinchprovisions.com, and in thousands of specialty stores and better boutiques nationwide, including Sephora, Francesca's Collections, Nordstrom, Henri Bendel, The Container Store, and Kitson.
About Pinch Provisions
Pinch Provisions is the leading purveyor of premium emergency essentials. The Chicago-based mother-daughter company designs impossibly chic and incredibly useful personal care kits for women and the men they love.