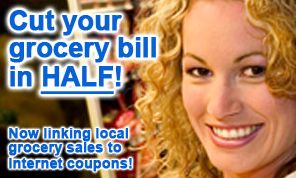 I recommend Savings Angel. I was skeptical and didn't sign up for some time, but after reading some of the deals offered in their weekly email I took advantage of their 30-day trial period. It pays for itself and more. (A list of the stores they work with is at the bottom of this post.)
What is Savings Angel?
1. Savings Angel takes local advertised grocery & household good prices and places them in a searchable database. They do this weekly. More importantly they do this for each store they're currently partnering with so the offers are truly unique offers you won't find elsewhere.
They don't bombard their members with endless ads, spam, or surveys in the hopes of revealing some kind of "special coupon." Their approach is more like that of "consumer reports". They run no ads on their Website and abhor spam as much as I do. They really are on a mission of save members the most money possible.
Each week they compile over 1,500+ databases of coupons that can be used on each advertised item, adding this information (along with the coupon location) to the data.*  Together, this information allows you to shop for items you normally buy, but at the best possible savings.
* You'll be regularly alerted to special "deals" and purchase/coupon combinations that make quality products very inexpensive or even free! You'll be in shock of how inexpensively you can feed your family!
They spend what might take you 30-40 hours each week compiling manufacturer coupons & rebates with store sales – matching them up to scientifically – giving you the shopping pattern that will result in the lowest monthly grocery bill. We call this "Enlightened Shopping." Most members report being able to cut their monthly grocery bill in half – especially after about six weeks of "building up supplies."
They also provide education and training on creating more abundance in your life – including education on better shopping, saving, and giving. Would you believe that it can actually be FUN to move forward financially?
If they are in your area please visit their Website to learn more. Just click on the image or your city below.
Happy savings mom!
Enroll for 4-weeks FREE now: Savings Angel