The movie 'Shorts', from Warner Bros., will be in theaters starting August 21st.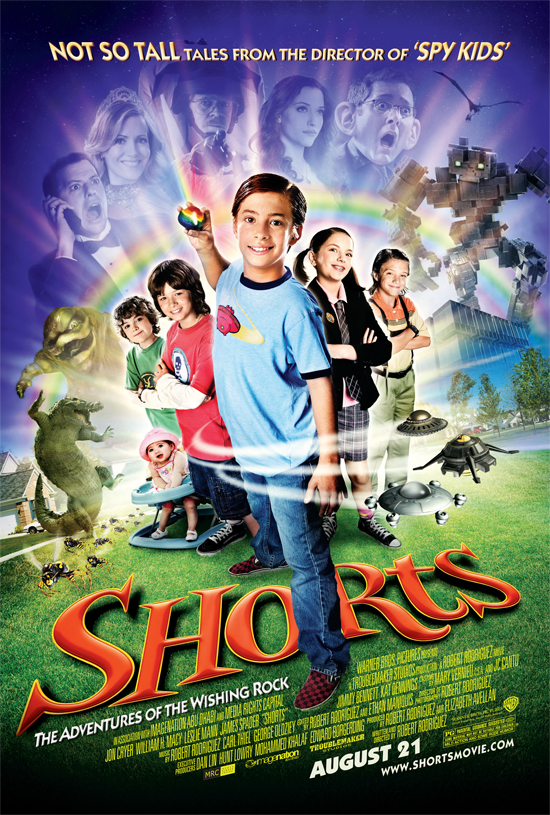 Visit their official Website to learn more and watch the trailor: Shorts Movie
Shorts is set in the suburb of Black Falls, where all the houses look the same and everyone works for BLACK BOX Unlimited Worldwide Industries Incorporated, whose Mr. Black's BLACK BOX is the ultimate communication and do-it-all gadget that's sweeping the nation.
Other than keeping his parents employed, however, Mr. Black's BLACK BOX has done nothing for 11-year-old Toe Thompson, who just wants to make a few friends…until a mysterious rainbow-colored rock falls from the sky, hits him in the head and changes everything. The Rainbow Rock does Mr. Black's BLACK BOX one better: it grants wishes to anyone who holds it. Before long, wishes-gone-wrong have left the neighborhood swarming with tiny spaceships, crocodile armies, giant boogers…and outrageous magical mayhem around every corner.
But it's not until the grown-ups get their hands on the Rock that the trouble really starts. Now Toe and his newfound friends must join forces to save their town from itself, discovering along the way that what you wish for is not always what you want.
Now for the Prizes!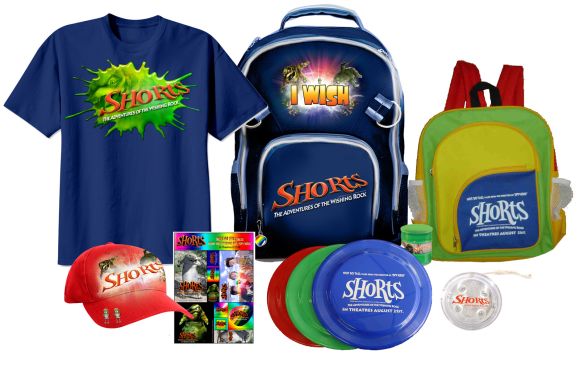 On August 24th Momz will announce a Grand Prize Winner and two First Prize Winners!
_________________________________________________________________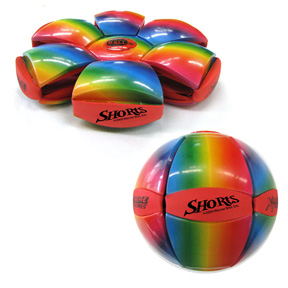 One Grand Prize Winner!
The Grand Prize Winner will receive the complete prize pack listed below as well as the Shorts "Phlat" Ball (Transforms from a 9" flying disc to a 6" ball when thrown)
Kids Backpack (two styles!!)
"Green Splat" T-shirt
Lollipop
Sticker sheets
Frisbee
Beach ball
Hat
Yo-Yo
__________________________________________________________________
Two First Prize Winners!
Our two First Prize Winners will receive all of the items in the photograph of the prizes and listed just above!
__________________________________________________________________
Enter to Win!
You can enter to win by sending us an email (admin [at] momz.com) with your first and last name OR by simply adding a comment to this post (see the bottom). The contest ends August 24th so please enter today! (Note: We never rent, sell, trade your email address. It will only be used for this contest.)
__________________________________________________________________
Contest Rules
You must enter no later than midnight August 24th. Only one entry per person.

RELEASE AND INDEMNIFICATION:

BY ENTERING THE SWEEPSTAKES, ENTRANTS RELEASE AND HOLD HARMLESS WARNER BROS. ENTERTAINMENT INC. AND EACH OF ITS RESPECTIVE PARENTS, DIVISIONS, AFILIATES, SUBSIDIARIES, AGENTS AND ADVERTISING AGENCIES (COLLECTIVELY, "WBEI") FROM AND AGAINST ANY AND ALL LOSSES, DAMAGES, RIGHTS, CLAIMS, AND ACTIONS OF ANY KIND ARISING IN WHOLE OR IN PART, DIRECTLY OR INDIRECTLY, FROM THE SWEEPSTAKES OR PARTICIPATION IN ANY SWEEPSTAKES-RELATED ACTIVITY (INCLUDING WITHOUT LIMITATION THE REMOVAL FROM THESITE OF, OR DISCONTINUATION OF ACCESS TO, ANY MATERIALS), OR RESULTING DIRECTLY OR INDIRECTLY, FROM ACCEPTANCE, POSSESSION, USE, OR MISUSE OF ANY PRIZE AWARDED IN CONNECTION WITH THE SWEEPSTAKES, INCLUDING WITHOUT LIMITATION PERSONAL INJURY, DEATH, AND/OR PROPERTY DAMAGE, AS WELL AS CLAIMS BASED ON PUBLICITY RIGHTS, DEFAMATION, AND/OR INVASION OF PRIVACY.

LIMITATION OF LIABILITY:

IN NO EVENT WILL THE WBEI BE RESPONSIBLE OR LIABLE FOR ANY DAMAGES OR LOSSES OF ANY KIND, INCLUDING WITHOUT LIMITATION DIRECT, INDIRECT, INCIDENTAL, CONSEQUENTIAL, OR PUNITIVE DAMAGES, ARISING OUT OF ANY ACCESS TO AND/OR USE OF THE SWEEPSTAKES SITE, THE DOWNLOADING FROM AND/OR PRINTING MATERIAL DOWNLOADED FROM THE SWEEPSTAKES SITE, THE REMOVAL FROM THE SWEEPSTAKES SITE OF, OR DISCONTINUATION OF ACCESS TO, ANY MATERIALS, OR THE ACCEPTANCE, POSSESSION, USE, OR MISUSE OF, OR ANY HARM RESULTING FROM THE ACCEPTANCE, POSSESSION, USE OR MISUSE OF, OR PARTICIPATION IN, ANY PRIZE AWARDED IN CONNECTION WITH THE SWEEPSTAKES.  WITHOUT LIMITING THE FOREGOING, THE SWEEPSTAKES, ALL PRIZES, AND ALL MATERIALS PROVIDED ON OR THROUGH THE SITE ARE PROVIDED "AS IS" WITHOUT WARRANTY OF ANY KIND, EITHER EXPRESS OR IMPLIED, INCLUDING WITHOUT LIMITATION THE IMPLIED WARRANTIES OF MERCHANTABILITY, FITNESS FOR A PARTICULAR PURPOSE, AND NON-INFRINGEMENT.