Wittlebee offers an affordable monthly membership service that automatically ships moms a box of children's clothing essentials. The service replenishes children's clothes supply, to ensure families are well stocked with the basics like onesies, t-shirts, leggings, socks, pants and more. As your child grows, so do the sizes of the clothes you receive each month. Hand selected by mom stylists, Wittlebee creates custom packages for members based on their child's age and other preferences.
"As a parent and a technology entrepreneur, I appreciate any product or service that makes my life easier and gives me more time to focus on my family. Parents today are already pulled in a million different directions, I saw an opportunity to automate shopping for basics by giving families access to a new way to keep up with their clothing needs. Any parent knows taking your children into a store is a scary task, and trying on clothes for toddlers can be an impossible mission. By updating children's wardrobes regularly with the clothes they wear the most, we hope to free parents up of the hassle of shopping so they can do want they want most, have fun with their kids." said Sean Percival, founder and CEO of Wittlebee.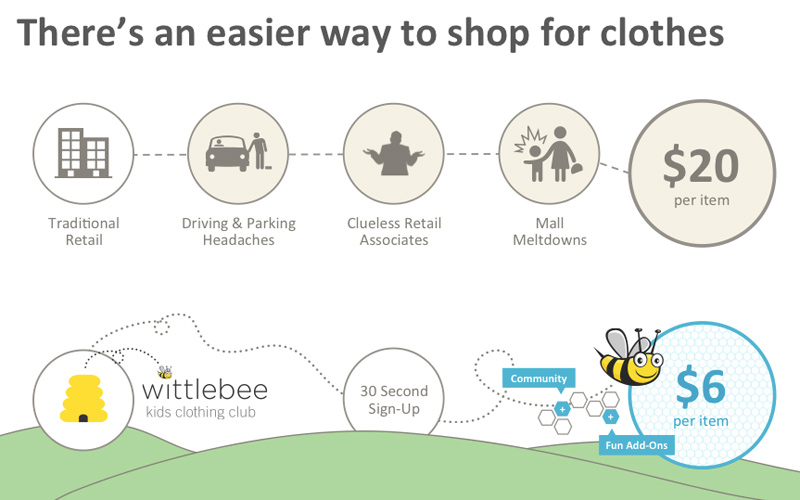 Getting started is easy and free
Leave your Stylist Notes
Leave your stylists notes on your account anytime to add more detail about your preferences.
Receive Your First Box
Your customized box of clothes arrives at your door in about two weeks. Every box contains about $100 in retail value of clothes. You'll receive a new box of clothes every month. You can pause or cancel your membership anytime.
Visit Wittlebee to signup now. Signup is free.